Author: Luschia Porter
We've seen impeccable tiny houses on Pinterest and tumblr, set on the edges of snow covered Norwegian fjords, but now the fashionable blogging trend might provide practical relief for Australians trying to penetrate the intimidating housing market.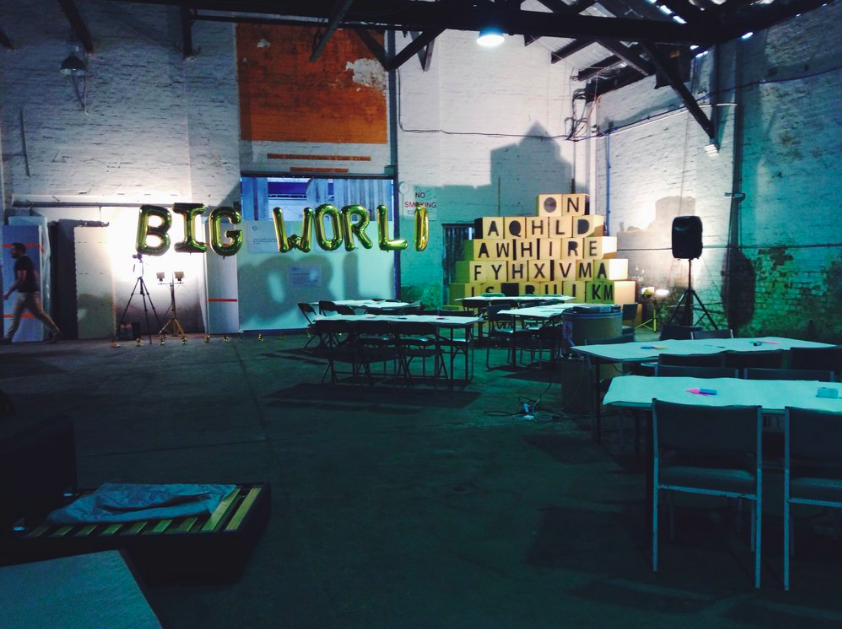 At the Big World Homes workshop at the Commune in Waterloo, Sydney. Photo credit: Luschia Porter
Alexander Symes is an architect and engineer with a passion for material analysis, thermal modelling and hospital facade cost analysis. He might not sound like your typical Gen Y (also known as Generation-me) enthusiast, but Alex has a project underway that aims to address the generational injustice that 20 to 30 somethings, trying to forge a career in Sydney while paying excessive amounts of rent, are experiencing.
He has teamed up with Dr Joanne Jakovich who runs the Platform for Strategic Open Urbanism (SOUP) to create a way to bridge the gap between renting and homeownership. Basically, they're radically re-thinking affordable housing for urban living. With the Greater Sydney Commission trying to tackle the housing affordability crisis with inclusionary zoning, their project could be a part of the solution.
We talk about design and architecture as a way to improve human well being, but the truth is that architecture is only really for the one per cent.
Alex has a history designing eco-homes for wealthy clients, and with only around five per cent of homes being designed by architects in Sydney, he felt like he wasn't making a big enough impact in the environmentally mindful design realm. He says "it all came down to dollar value and time". The only way to really make a difference is if we democratise architecture.
Inspired by the WikiHouse movement and Dresden Optics' mobile manufacturing model, he's designed a tiny eco home, and for $65,000, it can be delivered to your door and assembled by two people over a few days. "All you need is a hammer, a drill and a few friends", says Ella Colley, who for four months of 2017 will be living in one of Alex's designs somewhere in the Sydney city. She will be blogging about her everyday experiences living in and building the tiny home.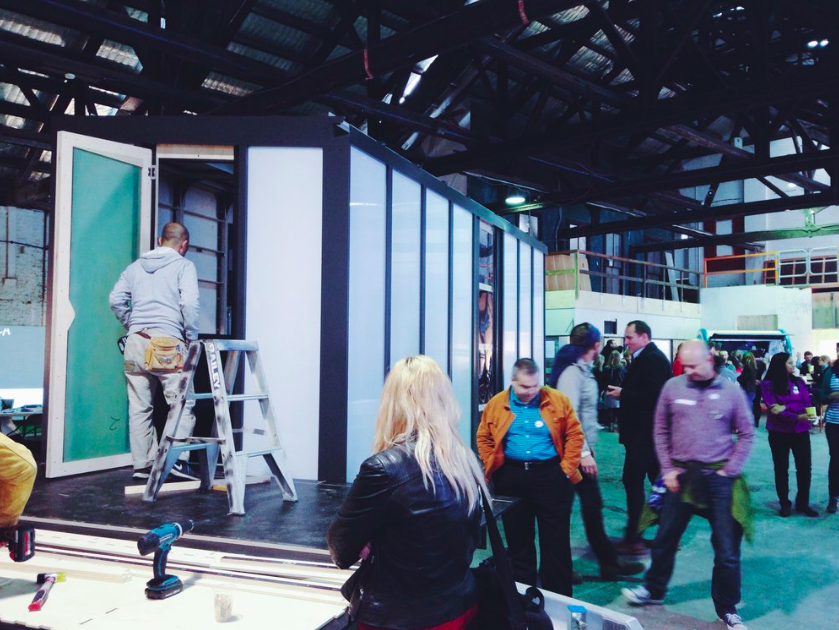 People gather around as the first tiny home prototype is built by volunteers inside the Commune in Waterloo. Photo credit: Luschia Porter
The tiny houses have names, they're 'Big World Homes' (BWH), and tacked onto the side is the not-for-profit: 'Big World Communities'. This is where Joanne from SOUP comes into play. She's yet to find a land sponsor, but Big World Communities will play on people's curiosity surrounding an affordable housing solution. "We're trying to find people who want to work in a corporate social responsibility capacity with us to provide land", says Joanne, "we want to find available land and create 'pop-up' communities for people who might want or need a transitory home, with the permission from their land owners."
| | |
| --- | --- |
| | |
| The interior walls are left exposed in this prototype, and are made from plywood. | Thermal cladding between the panels. |
The most interesting thing about this, is the potential Big World Communities have to reinvigorate what are termed 'brown fields' (former industrial land within an urban environment, that have been vacant or unused because they might be awaiting development action). I can think of many unused blocks of land around Sydney, like Barangaroo before it was developed. The great thing about a BWH is that you don't need a Development Application to set your home up on a plot of land. It's fully self-contained and off-the-grid. It comes flat-packed, and it includes a rain-water tank, a solar panel, a battery pack (to store electricity) and a sewerage system. On the downside, you may need to get used to shorter showers, hair washing is discouraged.
At first I found this concept hard to fathom, I thought it was too similar to buying a mid to high-end car, that would only depreciate over time, and I couldn't see past what was missing – the appreciation of land. Then I thought back to their main ethos, 'bridging the gap between renting and owning'. In a BWH, if the not-for-profit can afford you land, you would essentially pay off your tiny house over five years – if you paid weekly repayments similar to renting in the Eastern Suburbs of Sydney. You are then free to save your money, and if your home has depreciated, you could either re-invest and repair/refresh it, or sell it. Surely it's not dead money,  like with renting.
With 51 per cent of people in Sydney having only one or no children in the house and with the need for Sydney to produce 40,000 new houses in the next year to keep up with housing demand, this radical re-thinking of the great Australian home is something Millennials might just consider. Big World Communities want to curate safe, family friendly, innovative communities, where access to amenities and transport is essential. The tiny houses are designed for an urban environment, so one can continue to afford to live, play, get educated and work in the city.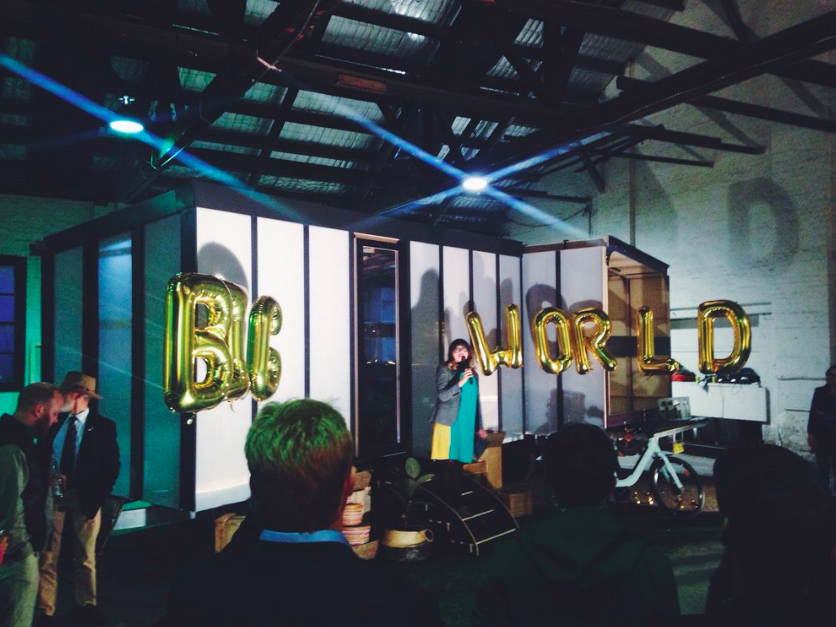 City of Sydney Councillor, Jess Scully opens the Big World Homes launch party. The tiny home behind her was built over the day by a handful of volunteers. Photo credit: Luschia Porter